The tight end position was a second thought not too many years ago, but that is no longer the case. The athletes now playing the position create incredibly difficult match-ups for opposing defenses. Production from TEs is at an all-time high with a record number of players (11) scoring over 100 points in the 2011-12 season. The position is valuable as ever.
Expect to see plenty more spikes from Gronkowski.
The two TEs in a tier of their own are
Rob Gronkowski
and
Jimmy Graham
. Both will likely be drafted in the first two rounds of most fantasy drafts. Last year, Gronkowski had the greatest fantasy season from a TE in history. He ranked 6
th
in points among all RBs, WRs, and TEs. He also projects to set the all-time best draft average for TEs this upcoming year, which means it may be hard for him to outperform his draft value. However, he's very consistent week-to-week and is an exceedingly safe bet to produce another top-shelf season. Graham didn't have a bad season of his own, finishing 12
th
among all RBs, WRs, and TEs. He became Drew Brees favorite target, placing 3
rd
in the NFL with 99 receptions and 6
th
in the NFL with 149 targets. Being outshined by Gronkowski this past season may result in Graham becoming a better value pick in many leagues.
The rest of my number #1 TEs are
Antonio Gates
,
Aaron Hernandez
,
Jermichael Finley
,
Jason Witten
,
Vernon Davis
and
Brandon Pettigrew
. Gates has battled through injuries the past few seasons, but still managed to produce. This is the healthiest he has been in a going into training camp over the past couple seasons and Philip Rivers should be relying on him more than ever. Hernandez will be targeted enough to merit his status as a #1 TE, but the plethora of options for Tom Brady places a constraint on his upside. Finley will be fighting for targets in a similar situation to Hernandez. He had a little trouble with drops last season, but his talent level is not too far from Graham's. I like him to improve on his reception and yardage totals in the upcoming season. Witten had a down year by his standards, but played in all 16 games for an 8
th
consecutive season. He should be good for another 1000 yards and 5 TDs. Davis is an otherworldly athlete. I have no doubts that he would be mentioned with Gronkowski and Graham if he had a QB on the level of Brady or Drew Brees. He doesn't though, which is why he is stuck in this tier. Pettigrew has quietly emerged as a very solid option. He has improved his reception, yardage and TD totals in all three of his first years.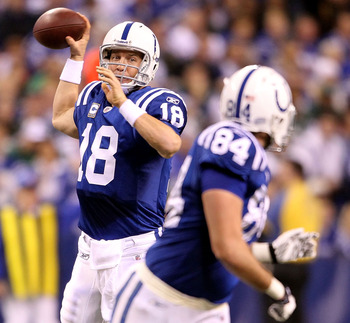 Will P. Manning (18) make J. Tamme (84) into a top 10 TE?
This next group consists of lower-end and borderline starting TEs. They are Tony Gonzalez, Jacob Tamme, Fred Davis, Jermaine Gresham and Brent Celek. Gonzalez experienced a resurgence in 2011-12 after his worst season in over a decade. He continues to add onto his Hall of Fame resume, but should fall closer to his 2010 totals in the upcoming year. Jacob Tamme is probably the least talented of the group, but his rapport with Peyton Manning makes him a viable starter. Davis' fantasy season was kept in check by his low TD total, but should experience another good season with Robert Griffin III behind center. Gresham will see consistent targets and his value will improve as Andy Dalton improves. Celek finished off last season rather nicely and I like that production to rollover into the 2012-13 season.
This last collection of TEs is comprised of players who will begin the season with use as spot-starters. They are
Kellen Winslow
,
Owen
Daniels
,
Coby
Fleener
,
Dustin
Keller
,
Jared
Cook
,
Dallas Clark
and
Martellus
Bennett
. Winslow is being overlooked thanks to the sporadic play of Josh Freeman and a lack of TDs. He's still only 28 years old and he could quickly regain starting status if he develops an early relationship with Matt Flynn in Seattle. Daniels is a few years and a few injuries removed from his status as a sleeper TE. Solid stats await him if he can stay healthy, but his ceiling is limited. Fleener couldn't have landed in a better spot than Indianapolis. The chemistry is already there with him and Andrew Luck, plus the Colts offense likes to incorporate TEs. Keller had his best pro-season and is the Jets second best WR. The uncertainty as to how often the Jets will pass tempers his value though. Cook was described as a "weapon" by Titans head coach, Mike Munchak. His upside was proven when he averaged 112 yards over his last 3 games. Clark found a great spot in Tampa Bay, where Winslow finished 4
th
among TEs in targets (121). Lastly, Bennett looks to secure a comfortable role as the starting TE for Eli Manning. He doesn't have a ton of upside, but could become a viable starter.