Welcome to the 3
rd
part of my Positional Breakdown Series! I have outlined my thoughts from top to bottom on the wide receiver position. If you have read my breakdowns on
running backs
and
quarterbacks
, I hope you have enjoyed them. I've looked forward to this part in the series because WRs have become increasingly valuable over the past few years. The strategy of backwards drafting is being used more frequently and has found success. In short, backwards drafting means selecting WRs in the early rounds before RBs. As an example, let's say that you have the 3
rd
overall pick in your draft. Arian Foster and LeSean McCoy were chosen as the first two picks. Rather than take Ray Rice, you decide to go with Calvin Johnson. The two major driving forces behind backwards drafting are that WRs have shrunk the points gap between RBs and they also have a much lower risk of a significant injury. Catches, yards and TDs are the bread-making stats, but I must remind you to please pay attention to targets. The more a QB looks a player's way, the more chances he has to put up stats.
How high are you willing to go for C. Johnson?
WRs might be the most subjective position, but I don't think there are any arguments as to who is the top WR in the NFL and in fantasy football. That honor belongs to Calvin Johnson. The next three guys have great resumes and more good years to come: Larry Fitzgerald, Andre Johnson and Roddy White. Fitzgerald was the darling WR for a little while, but then playing in Arizona with little team success ultimately slashed his publicity. He still put together a very good season and had a career high 17.6 YPC, which shattered his previous high. I expect nothing but another top-5 season. Andre's health last season was a major annoyance, but he is still the definition of a beast. No matter how many yards Arian Foster piles up, Andre should get plenty enough of targets to justify his ranking. Roddy has been an incredible stat producer and led the NFL in targets with 181. Andre has a higher potential than him, but if you want to play it safe go with Roddy.
This next group is a pool of #1 WRs that can be considered interchangeable, so I'll just make a few points. The group consists of Hakeem Nicks, AJ Green, Greg Jennings, Wes Welker, Victor Cruz, Mike Wallace, and Marques Colston. Nicks and Cruz are a simply a damn good pair of wideouts for the Giants. Welker's value would obviously rise in PPR leagues. Jennings may be the surest bet to produce after Welker. AJ Green could already be Larry Fitzgerald's equal, but his improvement relies on the continued development of Andy Dalton. Wallace is a pure burner and he was having an elite season before a second-half dip in production. He may be a little inconsistent throughout the year, but the stats should be there at the end. Jimmy Graham may take away some targets from Colston, but he also eases up the coverage on him.
Julio Jones has all the makings of an elite WR.
Now for a lengthy list of high end #2 WRS: Julio Jones, Steve Smith, Dez Bryant, Jordy Nelson, Percy Harvin, Dwayne Bowe, Vincent Jackson, Jeremy Maclin, Brandon Marshall and Miles Austin. Julio is a ridiculous playmaker and a favorite of mine. He's a matchup nightmare for defenses when healthy. It's fair to say that nobody enjoyed the presence of Cam Newton in Carolina more than Steve Smith. He put up silly numbers during the first half, but then came back to earth so don't overpay. Bryant and Austin should benefit from the departure of Laurent Robinson. Jordy no doubt had a great 2011-12 season, but temper expectations because the Packers have too many weapons and his touchdown total will be tough to duplicate. After Adrian Peterson got injured, Harvin probably helped owners win a lot of leagues with his tremendous second half. He remained healthy enough and the Vikings were finally able to utilize his unique skill set. The Vikings should try to get Harvin involved often this upcoming year. Bowe and V-Jax are both physical WRS and should get more than enough targets targets since they are the clear #1 WRs on their respective teams. Just yesterday, news was released that Marshall won't be charged for a nightclub incident. If there wasn't enough evidence to charge him, I don't see any way that Roger Goodell can suspend him. Reunited with Jay Cutler, I expect them to get back rather quickly to where they left off.
The rest of my #2 WRs are Reggie Wayne, DeSean Jackson, Stevie Johnson and Demaryius Thomas. I wanted to place Wayne in the above tier after seeing what Steve Smith accomplished with a rookie QB, but I resisted for the time being. DeSean is electric and fun to watch. In leagues that reward longer touchdowns his value rises, but his inconsistency holds his value down. Stevie has an entertaining personality and his unorthodox route running even gave the NFL's best CB some troubles. He should see consistent targets, but his upside is limited. Thomas is another one of those freak athletes playing WR and Peyton Manning should be able to get the most out of him. An injury to Peyton and his value is severely damaged though.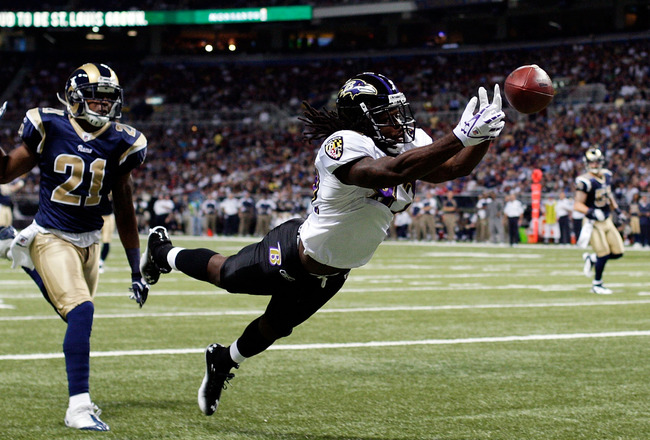 The potential is there with Torrey Smith.
I have already named 24 WRs so this next group can be considered high-end #3 WRs. Many of these players have high upside, but just need more targets to rise up the rankings. Jordy Nelson was a member of this group last year and he blossomed quite nicely. The WRs are Kenny Britt, Antonio Brown, Brandon Lloyd, Robert Meachem, Torrey Smith, and Titus Young. Britt has Pro-Bowl talent if he can stay healthy. The Hasselbeck/Locker combo should be able to get him the ball enough, but his current injury situation tempers his value. Brown proved to be a great value pick last season. I'm not sure he's ready for another jump, but should post up similar stats to last season. Lloyd is the first deep threat for Tom Brady since Randy Moss. Moss didn't need to compete with Rob Gronkowski and Aaron Hernandez for Brady's affection though. Meachem's presence in this group is heavily based on the fact he will be forced into a great opportunity. Smith is a game breaker with high potential, but must rely on a questionable QB to get him the ball. Titus is a player I'd like to target because he's in a great situation.
I have assembled a mosh pit in this next group of #3 WRs: Santonio Holmes, Lance Moore, Denarius Moore, Eric Decker, Santana Moss, Anquan Boldin, Pierre Garcon, Sidney Rice, Malcolm Floyd, Justin Blackmon, Darrius Heyward-Bey, Randy Moss, Greg Little, Doug Baldwin and Michael Floyd. The players in this group that are most likely to outperform their draft position are Decker, Moss, Malcolm Floyd, Lance Moore and Greg Little.
I'll finish off this breakdown with a few deeper sleepers: Danny Amendola, Emmanuel Sanders, Jordan Shipley and Rueben Randle.